Factory
The company spreads over a total area of 250.000 square meters, 70.000 of which are covered surface, and employs approximately 700 people.
Inside the plant, AGCO Production System is applied based on the theory of lean manufacturing.
The core idea of lean production is to eliminate all aspects of the manufacturing process that add no value from the customer's perspective, in order to improve efficiency, effectiveness and profitability.
The plant is going through a constant evolution process, thanks to several investments made to turn the factory into a real example of Industry 4.0.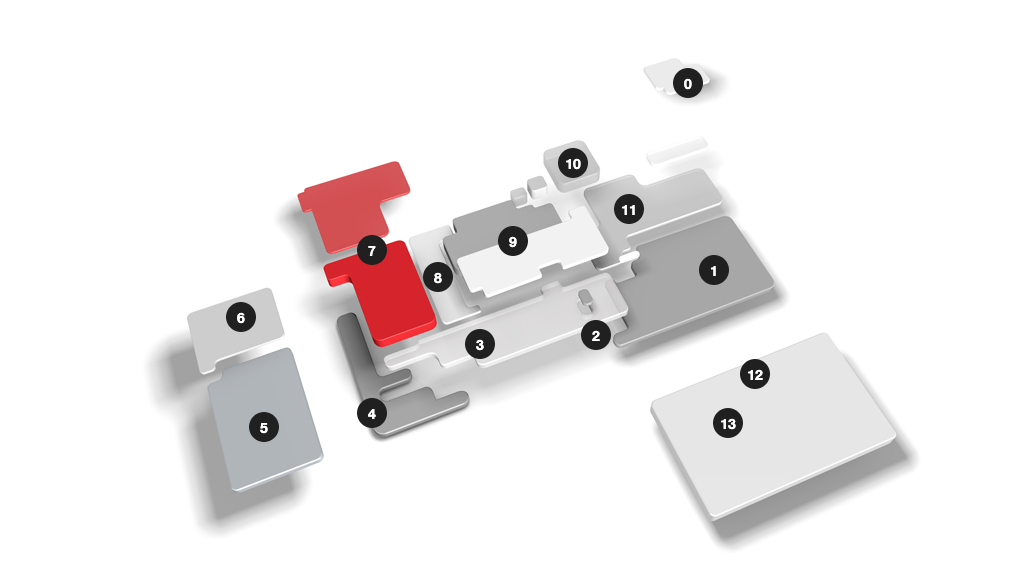 0 AGRIDOME
---
1 COMBINE ASSEMBLY LINE
At the height of production, the capacity of the assembly line is 7 combines a day during a 9-hour shift. In the assembly line, there are two Quality Gates, where a dedicated team performs several functional tests and checks before the end of the assembling process.
Groups and subgroups of the whole range of combines produced in Breganze are assembled in the different pre-assembly areas located at each side of the main line.
---
2 SETTING & TESTING TUNNEL
At the end of the assembly line the machine undergoes in-depth checks inside the Setting & Testing Tunnel.
Here, a dedicated team performs more than 100 inspections based on a checklist, which is continuously updated according to pre-delivery checks and on field reports. The combine harvester is subject to static, low, and full speed dynamic tests. Tests can last up to 8 hours, depending on the model.
To guarantee our customers a top-level quality, we ensure continuous training to our staff and carefully check every production phase.
---
3 SUPERMARKET
The shelves of this huge storage area have a horizontal development to enable an easier and faster storing and picking method. This arrangement is part of a great improvement plan aiming at a new material flow: the goal is to develop a more rational and efficient production process.
---
4 CUTTING HEADER ASSEMBLY LINE
Three different types of cutting headers, in various dimensions from 4.20 m to 12 m, are manufactured in this production line: the L-series, the Free Flow and the Power Flow headers.
---
5 AGCO PARTS
AGCO Parts – Breganze Division – receives, stores and distributes genuine parts to support AGCO brands dedicated to harvesting machines/machinery and tractors.
It provides original spare parts directly to Dealers throughout Italy, and indirectly to the other countries in Europe, Africa and Middle East through its network of warehouses located in the UK, France, Spain, Finland, Poland, Turkey and Sweden.
---
6 PROTOTYPES
This department is dedicated to the continuous development and testing of new technological products and to the execution of several tests, to accomplish AGCO vision: providing high-tech solutions for professional farmers feeding the world.
---
7 PAINT SHOP
The paint shop covers a surface of 6,000 square metres and works with two paint systems: Electrophoretic Coating (e-coat) and Powder Coating.
Acccording to their size, parts are loaded on automated transfer cranes to be moved into the system, where they are subject to the whole painting process, from degreasing to cataphoresis. This process guarantees excellent corrosion protection to the piece and is used as base paint for all the parts, including the internal ones.
After the e-coating process, the parts are cured and dried in one of the ten ovens, with a temperature ranging from 170° to 190° C, depending on the thickness of the component. Moreover, all the parts that will be exposed to light go through the secondary powder coating process.
---
8 MECHANICAL WORKING
Our strategy is to produce the combine harvester core components in-house: we want to make sure that they are manufactured according to our high quality standards.
Gearbox and final drives components for straw walker combines are first worked in dedicated areas and then assembled to form the relevant subgroup. Gearboxes undergo a complete series of tests inside a special booth.
In the Machining Area, two multi-purpose machining centres for axles and other numerically controlled machining centres are located.
---
9 WELDING
An excellent welding operation is crucial for the quality of the product. For this reason, all welding operations are performed inside the factory. This is an added value action providing the customers with great benefits.
The Welding Department is composed by 48 manual and automated welding stations.
In this area, a robotic island is dedicated to the welding of all header frames. The system is composed of two robots that move on rails and simultaneously weld the same part assembled on a mechanical hand.
A new completely automatized FMS (flexible manufacturing system) welding system, mainly dedicated to IDEAL, has been implemented. In this system there are two welding robots per station, which allow offline programming: you can program the robots on the pc by visualizing a 3D of the tool and of the robot. Our target is to have more and more parts welded by robots to increase quality and efficiency.
The whole system can weld 40 frames at the same time.
---
10 RECEIVING
In this area we receive all outsourced materials from external suppliers such as sheet metal, part moulds, electrical components, hydraulic parts, engines, wheels and small standard parts. The incoming materials are constantly subject to rigorous quality inspections, carried out in the metrological and metallurgical laboratory.
---
11 CUTTING AND BENDING
Cutting and bending activities are essential to our manufacturing process: in order to guarantee a top-level quality we have precise and efficient equipment for all these operations. We have made very recent investments in this department with the implementation of new Trumpf bending machines, known worldwide for their precision and functionality. Part of a very recent investment are also the two brand new and completely automatized Trumpf laser centres, which guarantee maximum efficiency, precision and speed in cutting operations.
---
12 AGCO ITALIA
All sales, marketing and accounting activities of Laverda products for the Italian market are effected in this building.
---
13 SHIPPING
All activities linked to the shipment of combines are carried out in this building, provided with a huge workshop dedicated to the fitting of accessories for machine completion, to the final pre-delivery inspection (PDI) and to the preparation of the machines with the winter cover, when requested. In fact, we are the first and only manufacturer in the industry to protect the new combines with an exclusive weatherproof cover during winter shipments that prevents machines from corrosion due to road salt.
---